December 18, 2014
It's Hip to Be Squared
A few weeks ago at the Cisco Collaboration Summit Rowan Trollope made several announcements of new products coming out from Cisco in the realm of collaboration.  One of them was a we service called Project Squared.  Rowan's description of the service went kind of like this (HIGHLY paraphrased):
Everything that you have typically had in an office or conference room in the past has been replicated in the digital world.  For instance, you used to have folders to store files in.  On your computer you have the same context.  You used to have a rollodex, now you have a contact list in Outlook or other contact management application.  The one thing that hasn't been replicated for conference rooms is the room itself.  A place where you can keep all of the things that everyone needs to see.
Again, he was a lot more eloquent in describing this than I was, but that is the general gist of what was said.  But what does that really mean?  A virtual room?  I'll have to admit when I first heard it I was a little skeptical, I had always thought of Webex as the meeting room, but maybe I was missing something.  I've been messing around with Project Squared for a few weeks now and using it for some business uses and I thought I would go through what my experience has been.
First Thing's First
Before we get started, I should mention that Project Squared is still kind of a beta software that has been released to the wild, presumably in hopes that the user community will use it and make suggestions, bug reports and feature requests to Cisco in order to make the software better.  So you can sign up right now for yourself at http://www.projectsquared.com and sign up to see what all there is.
Being a beta product, it still shows a lot of promise. Many of the things appear to work as they should, but I have already made a few different suggestions on things to change.  When this was announced, Rowan Trollope mentioned that the development cycle to release new updates was going to be very short and to expect things to be implemented very quickly.  I haven't necessarily seen any of my suggestions entered, but who knows where they were in the popularity stack.
So What's It Do?
That's the big question, right?  My initial thoughts when I logged into Squared were that it was a chat room.  Which it kind of is. When you log in, the first thing that you will want to do is create a room, you do that just by inviting people to a room by their e-mail address.  Nothing else is really required to get someone in here, just send an invite to their e-mail address and soon you will be chatting and sharing away.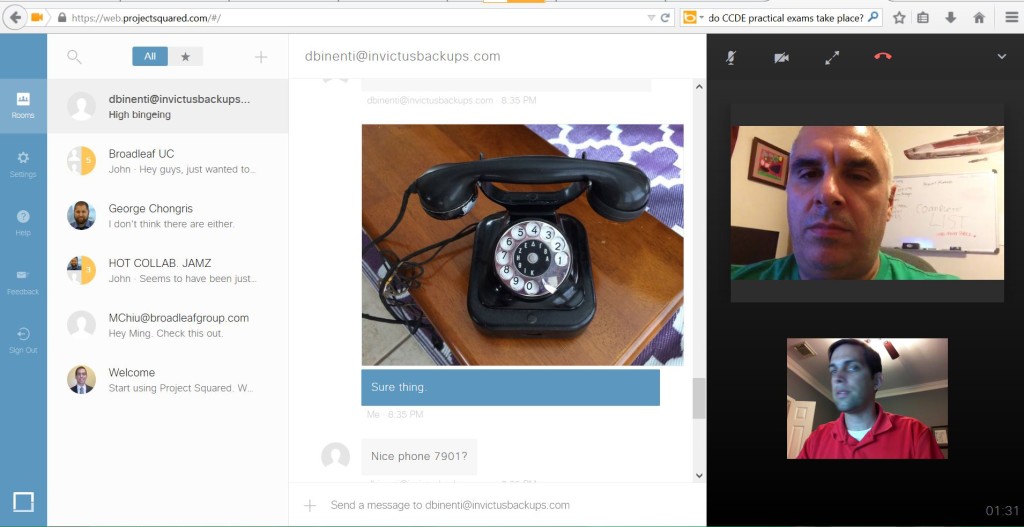 In addition to that chatty stuff, you can upload and share files.  The files will be in a persistent list so that you can easily reach them even when the chat has pushed them way off the screen.  The interface has video built in as well, allowing you to do multi-party video calls without any video infrastructure in your environment.  Chat isn't getting the point across that you need?  Just click the video icon and it will reach out to everyone in the room that you are in and attempt to get them to join your video call.
I will say that in th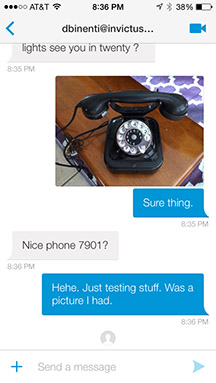 e couple of video calls that I have done the quality was pretty darn good.  It's about what you would expect out of a Webex video call, which makes sense since the back end of what is running all of this is the Webex cloud.
Speaking of the Webex cloud, one of the things mentioned a couple of times when this was announced was the level of encryption and security that is baked into this product.  While details weren't specified, I'm sure that they are leveraging some of the security infrastructure that is already in the Webex and Webex Messaging products.
Currently there are applications to run on Android, iPhone/iPad as well as Mac.  There is also a fully featured web interface that looks and feels like the application interfaces.  The goal is to be able to use this service from wherever you are and I think they did a pretty solid job.  The apps work well and the web site is nice and responsive and works fine with the video calling without having to install anything else.  The not having to install anything was a huge thing in my book as far as user friendliness when using the web interface.  If my mind if you have to go install a variety of plugins then it is going to hamper user adoption, so bravo to Cisco for seeing this and making sure that plugins weren't necessary.
So overall the user experience is pretty good, but since it is a beta application there were still some things that could use some improvement in my opinion.  And there are some things that may not be fixable.  Let's get on to that.
So What's Wrong With it?
As I have said before, this is a solid first attempt at an interface like this.  Everything works well and it has hooks so that you can use this with other applications, but there are a few things that if it were me I would change as soon as possible.
The file browser for certain files does very well, but for others especially on the mobile side it leaves a little to be desired.  When one of my colleagues shared a word document, I tapped on it in my iPhone and it was just to small to read anything.  The native resizing gestures for iOS didn't seem to do anything to help.  The best I could do to resolve this was to change my phone orientation to landscape so that it displayed a little bigger, but that's kind of a poor resolution (pun intended).
If you start a room with only one person it can only ever be a one person room.  I can understand that you may want to create rooms to ensure the privacy of what is said there, however I think there should be options to create a team room with only one other person to start.  That way if you are working on the project and the staff working on it is fluid you can add new people as needed even if it only started out as a two person room.
My biggest issue, and the one that will be the toughest to tackle for Cisco is user adoption.  I think that a lot of people may see this as just another tool that they have to use that maybe they don't see a value in.  A friend of mine and I both sent invites to teams at our respective employers and in both cases, though many were invited to a room only one showed up.  Now I realize that this was just a test room, but if it is difficult to get the engineering community that would recommend a tool like this to use it then it may be hard to get the regular user base to use it.  While I like using the tool and everything, sometimes it just feels like a solution without a problem.  Many of the things that it does can be accomplished with other applications, though not necessarily in the same place.  I'm just not sure what the adoption will be like when it's one more tool that augments the tools that users already have.
The last issue I see is really just one of perception.  While it's definitely not the same product, when Project Squared was being announced I couldn't help but think of Cisco Quad/Webex Social.  With those somehow attached together in my mind I can't help but think about how unceremoniously those projects were cancelled and what would happen if the same thing were to happen here.  What is truly the anticipated life expectancy of this product?  In a recent discussion with Jonathan Rosenberg on Cisco Champions Radio Rosenberg stated that current measures for success are just whether or not people are using it, so for the near future at least that lifts a little bit of concern. We'll just have to see how things evolve once features are added that will generate revenue for Cisco.
Let's Stop Talking About Negatives
Ok, so those were the negative things that immediately jump out at me and really for a rev 1 product that list is actually pretty short.  As I said the interface is clean and intuitive and very responsive when you do things in it.  Honestly, why are you listening to me on this, the best way to tell if Squared is for you is to actually use it.  Get in there and get your hands dirty!  You should go over to projectsquared.com and give it a try.  Be there or be Squared! Yes, I went that far.